Trust your home with me. It's the CLEAR CHOICE.
Call 865-282-0265
Clear Choice Home Inspections provides Residential Home Inspections, Pre-Listing Inspections, Annual Rental Property & Cabin Inspections, Home Maintenance Inspections and 11th Month Warranty Inspections for the Greater Knoxville area.
Whether you're buying, selling or building, Clear Choice Home Inspections will be there to provide professional quality service from beginning to end.
I will strive to provide you with peace of mind and the details you need to make a CLEAR CHOICE.

I provide prompt and courteous explanations to ensure all your concerns are addressed.

I look forward to having the opportunity to show you why I am the Clear Choice to inspect your home.

Providing peace of mind through quality home inspections in the East Tennessee area.
Buying or selling a home, whether it is your 1st or 10th time, can be a very stressful event. I should know, I have been there. I have bought and sold homes in person, across the country, and from across the pond! That's why I am committed to inspecting your potential investment with the same care and attention to detail that served me well during my 20 years as a member of the U.S. Air Force. My goal is to provide you with an inspection and report that identifies all major issues, as well as maintenance and improvement recommendations in a reassuring and clear manner.


Buyer's Pre-Purchase Home Inspection
I welcome clients and agents to join me at the inspection. You can come along with me and as we walk through the home, ask any questions you may have to make sure you have a comprehensive overview of the home's condition.

Seller's Pre-Listing Inspection
We all know your buyers are going to want to have an inspection. You should know what they are going to find by getting there first. Having a pre-inspection allows you to see your home through the eyes of a critical and neutral third party.

Investment Property Inspection
This level of inspection is different than a residential inspection. The details are aimed more at the physical conditions of the structure. A critical look at all systems, structure, roof, foundation, and general condition of all major items – to clarify the repairs and upgrades that need to be addressed.

Annual Rental Property and Cabin Inspection
As a former investment property owner, I am proud to offer rental property and cabin inspections. Yearly inspections are important protection on your investment by helping to identify issues before they turn costly.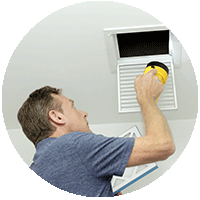 Home Maintenance Inspection
An Annual Home Maintenance Inspection allows the homeowner to have an evaluation of the major systems of their home and to identify any areas of concern since their last inspection.

11th Month Warranty Inspection
Most builders offer a one-year warranty on a new home. I'll come out during the 11th month and perform a full home inspection before the builder's warranty expires.

What to Expect From Your Inspection
Wondering what's included in a standard home inspection from Clear Choice Home Inspections? Here is a quick overview of the services included in your home inspection, and the major systems that I will analyze and assess throughout the process. 
Learn More About What's Included In A Home Inspection

If you are in need of a home inspection in Knoxville, Clear Choice is here to help. Whether you need a buyer's inspection, a pre-listing inspection, or you just are interested in a home inspection to ensure proper maintenance of your current home, you can trust me to deliver excellent services.

See What My Clients SAY
My focus is on a quality of inspections and not quantity of inspections.
I can't really thank Josh enough for his hard work. I now know that my home is safe and should be for the foreseeable future. If you are searching for someone to inspect your home, know that it would be highly improbable for you to find someone as thorough, or who cares, as much as Josh. He does an incredible job!
Nicholas G.
For Agents
With technology like infrared cameras, moisture detectors and more, I can detect hidden issues that other home inspectors may overlook, and ensure your clients are fully informed about the condition of the home they're interested in purchasing.